Åre offers good white water rafting and thanks to the many different tours it fits everyone.
Tångböleströmmarna:
A nice rafting in the scenic river Indalsälven. This is a beautiful ride starting at Ånnsjön overlooking the mountains of Jämtland. The tour runs between Ånn and Tångböle 30 km west of Åre. We paddle class 2-3 rapids and go ashore for coffee, tea, juice and sandwiches made on homemade bread.

Gevsjöströmmarna:
This tour is usually possible during the period 15 July to 31 September. A tough stretch of rapids with Sweden's steepest executable rapids. The tour starts in Gevsjön, about 20 km west of Åre. After a number of steep and exciting rapids, it is time to stop for wilderness lunch at Storfallet.
Show more
Book now - choose start date and product
Apartment
Distance: 21.9 km
Liengården is situated right next to the ski lift VM8an. The slope ends by the building and you can ski almost to your door. Åre village, with all its restaurants and great shopping, is only a ten minute walk away.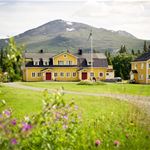 Hotels
Distance: 16.6 km
Enaforsholm Fjällgård is in the middle of the wilderness, close to both Åre, Storulvån and Storlien. Beautifully located below the magnificent Snasahögarna and surrounded by river Enan. Here you can easily travel all the way by car or train that stops at Enaforsholm station. The mountain holiday for those who want to live in a beautiful setting with the possibility of really good food