Climbing on the mountain Välaberget in Åre. Climbing in Sweden is often done on walls indoors but here you get to climb on real rock.
The mountain Välaberget is located 15 km east of Åre. There is a fine sport rock climbing in the sheltered south facing position with views of Väliste 1025 meters above sea level. The mountain has more than 30 climbing routes about 10-17 m long. We climb 3-5 pieces of these. We also do rappelling down the cliff.
Show more
Book now - choose start date and product
Apartment
Distance: 9.1 km
Örnen is situated with an amazing location in Åre Björnen. This accommodation suits the guests who wants to be close to the slopes, cross country skiing, and the nature.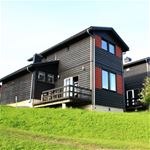 Chalets
Distance: 2.8 km
Hedmans Fjällby is a calm familiy friendly facility just 15 kilometers east of Åre village. It is a peaceful and pleasant area not to far from the ski lift systems in Åre, Duved, Trillevallen and Edsåsdalen.
Youth hostels
Distance: 386 meters
Södergården is an allergy-free accommodation with a good indoor environment 10 minutes from Åre village. Södergården is the only facility in the Nordic region that is adapted to those with severe allergies and asthma.