Jämtland and Åre is full of caves. Join us in for a spectacular experience!
Bergsjögrottan:
About 200 m long cave system of limestone located 7 km north of Kall. It is about a 30-minute easy walk to the cave. Cave openings are beautifully located behind a waterfall.

Kvarnbäckslabyrinten:
One of the longest caves in Åre. This Cave tour is one of the longer guided tours in Sweden. It is about a 45-minute hike to the caves located in a nice forest area. Here are several caves with a total length of about 450 m.
Show more
Book now - choose start date and product
Youth hostels
Distance: 386 meters
Södergården is an allergy-free accommodation with a good indoor environment 10 minutes from Åre village. Södergården is the only facility in the Nordic region that is adapted to those with severe allergies and asthma.
Apartment
Distance: 9.1 km
Örnen is situated with an amazing location in Åre Björnen. This accommodation suits the guests who wants to be close to the slopes, cross country skiing, and the nature.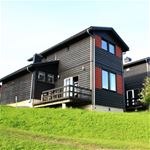 Chalets
Distance: 2.8 km
Hedmans Fjällby is a calm familiy friendly facility just 15 kilometers east of Åre village. It is a peaceful and pleasant area not to far from the ski lift systems in Åre, Duved, Trillevallen and Edsåsdalen.